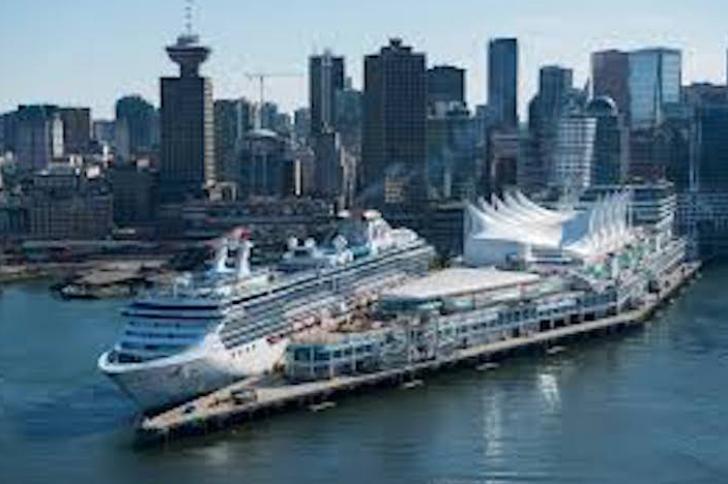 By
James Shillinglaw,
Feb 26, 2021,
(post a comment)
(9 comments)

D
id a bipartisan group of congressmen come up with a solution to allow major cruise lines to sail to Alaska this season after all? Members of the U.S. House Transportation and Infrastructure Committee sent a letter to the Canadian ambassador to the United States asking for compromise on cruise ship ban. Canada earlier this month imposed a ban on cruise ships from Canadian ports until Feb. 28, 2022. (Pictured above: Port of Vancouver.)
The letter to Kristen Hillman, Canada's ambassador to the U.S., was signed by Rep. Peter DeFazio (D-Ore.), Rep. Sam Graves (R-Mo.), Rep. Salud Carbajal (D-Calif.), Rep. Bob Gibbs (R-Ohio), and Rep. Don Young (R-Ark.).
The congressmen wrote to express their concern about the potential economic impact on local business and communities resulting from Transport Canada's Feb. 4, 2021 announcement of an interim order to prohibit passenger vessels carrying more than 100 people from operating in Canadian waters until Feb. 28, 2022.
The congressmen noted that Canada plays an internal role in supporting U.S. cruise-related travel and tourism in Alaska, Washington State, the Great Lakes and New England. Pre-pandemic, the cruise industry generated $2.85 billion in direct economic spending in these U.S. regions combined, including more than 53,000 jobs and $3.1 billion in wages. The pre-pandemic combined impact of cruise-related travel in Canada is also significant, with the cruise industry generating nearly $2 billion Canadian in direct combined spending, along with 30,000 Canadian jobs and $1.5 billion in wages and salaries. The congressmen noted that by closing Canadian ports to passenger vessels for another year, the livelihoods of tens of thousands of Americans and Canadians are at risk from more job losses and further economic devastation.
"As public servants, we must focus on protecting the public health and safety of citizens, while at the same time providing opportunities for economic recovery," the congressmen wrote. "Recognizing the Feb. 4, 2021 interim order announced by Transport Canada intends to address the risks associated with COVID-19, it also potentially causes significant consequences for Americans and Canadians. While the cruise industry continues to work with the U.S. Centers for Disease Control and Prevention to resume cruising from U.S. ports, and as the trajectory of the virus moves in a positive direction, we need to work in partnership with the Canadian government to enable the reopening of critical sectors of the U.S. and Canadian economies while ensuring the safety of U.S. and Canadian citizens."
The congressmen wrote they would like to encourage the government of Canada to work with the U.S. government and industry stakeholders to find a mutually agreeable solution. "One suggestion would be the inclusion of language in a subsequent Interim order that enables cruise ships to meet the requirements of U.S. maritime law by permitting stops in Canada without disembarking passengers," they wrote. "It is our hope that this solution would both address the important health concerns of Canadian authorities and allow cruises to resume with the approval of U.S. government authorities when it is deemed safe to do so."
Of course, Congress could solve the problem itself by passing at least a temporary exemption to the U.S. law in question, the Passenger Vessel Services Act of 1886 (often mistakenly called the Jones Act), which was intended to promote American shipbuilding and maritime industry. The act prohibits foreign-flagged vessels from sailing between consecutive U.S. ports without stopping in a foreign port in between. Large cruise ships, which are foreign flagged, sail on Alaska itineraries by either departing from Vancouver or stopping in Canadian ports like Victoria if they leave from Seattle.
But the letter from the bipartisan group of congressmen would seem to indicate there is little appetite in Congress for passing an exemption to the law or even rescinding the law outright. The Passenger Vessel Services Act is widely seen as an anachronistic law that has not produced the benefits to the U.S. maritime industry that it was intended to do. And major cruise lines have long hoped Congress would eliminate it. Meanwhile, the cruise industry is left hoping the U.S. and Canada can come to some agreement if cruising to Alaska, the Great Lakes or New England-Canada is to take place this year if the industry can meet the demands of the CDC to resume cruising.